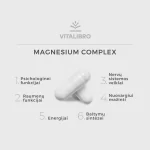 The highly concentrated magnesium complex "Magnesium" is characterized by fast biological absorption and is distinguished by its unique composition. The complex includes as many as 5 of the most useful forms of this mineral, which help the body function properly. Therefore, VitaLibro "Magnesium" is especially recommended for people who work a lot, do intense sports or, on the contrary, are less physically active, feel constant fatigue and lack of energy, and are constantly stressed.
Out of stock
Description
Found in every cell of the body, magnesium is a vital trace element involved in many reactions in the body.
Magnesium plays an important role in the process of energy production and cell division, supports normal protein synthesis in the body, participates in muscle contraction and relaxation, helps regulate the nervous system and reduces the feeling of fatigue.
Symptoms such as cramps, muscle spasms, increased nervousness, disturbed sleep, general weakness, numbness in the fingers and toes, impaired concentration or impaired memory may be the cause of magnesium deficiency.
The magnesium oxide, magnesium malate, magnesium citrate, magnesium bisglycinate and magnesium ascorbate contained in VitaLibro "Magnesium" help to quickly and effectively restore the magnesium deficiency in the body.
"Magnesium" helps to maintain normal protein synthesis, normal muscle function and normal condition of bones and teeth. In addition, this magnesium complex helps maintain the normal activity of the nervous system and psychological function, helps to maintain electrolyte balance, and performs a certain function in the process of cell division. It also helps maintain energy metabolism and reduce the feeling of tiredness.
Netto weight – 102 g.
| | | |
| --- | --- | --- |
| Active ingredients | One capsule contains | NRV*, % |
| Magnesium | 230,17 mg | 61,38 |
| Which contains: | | |
| Magnesium oxide | 150,00 mg | |
| Magnesium malate | 25,75 mg | |
| Magnesium citrate | 23,18 mg | |
| Magnesium bisglycinate | 20,00 mg | |
| Magnesium ascorbate | 11,25 mg | |
* – (NRV) - reference nutritional value (recommended daily dose).
** – (NRV) reference nutritional value not established.
Free of gluten, soy, lactose, artificial flavors and colors.
Suitable for vegetarians and vegans.
Magnesium oxide, citric acid magnesium salt magnesium citrate, hydroxypropyl methylcellulose, magnesium bisglycinate, magnesium malate, magnesium L-ascorbate, bulking agent microcrystalline cellulose, anti-caking agents fatty acid magnesium salt magnesium stearate and silicon dioxide.
Recommended daily dosage – 1 to 2 capsules once per day.

Food supplement should not be consumed as a food substitute. 

It is important to maintain a varied, balanced diet and a healthy way of life. 

Do not exceed the recommended daily amount.

Suitable for vegetarians and vegans.

Store in a cool, dry place, protected from direct sunlight, at temperatures no higher than 25 °C. Keep out of children's reach.